Bob Carr Theater | Orlando, Florida
Blending the genres of classical and hip hop to create an utterly unique style of music that's accessible to people from all walks of life, Black Violin are a truly original musical act that deserve the hype that's been surrounding them these past few years. The duo stops off at Bob Carr Theater on Saturday 8th February 2020 as part of their Impossible Tour, promoting their newest album, Take the Stairs, and creating a show that will "overcome stereotypes and encourage people of all ages, races, and economic backgrounds to join together to break down cultural barriers"!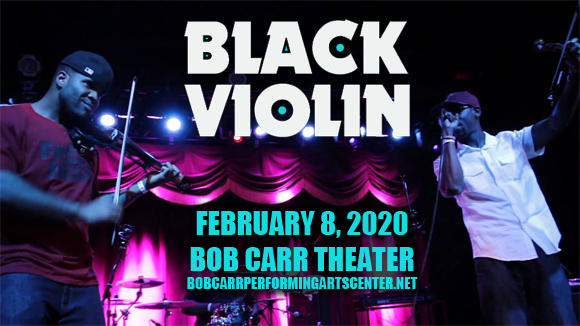 Black Violin is a classical crossover American hip hop duo, consisting of classically trained string instrumentalists Kevin Sylvester (violin) and Wilner Baptiste (viola), aka Kev Marcus and Wil B. Friends for years before they became a world-renowned musical act, the duo met in orchestra class at Dillard High School of the Performing Arts in 1996 and, after going their separate ways for college, reunited in 2004. They began performing classical covers of their favorite hip hop songs at local clubs, and one day they sent a tape of their act to Showtime at the Apollo. They were invited to perform on the show and won the competition, changing their lives. Subsequently, they have performed with Alicia Keys at the Billboard Awards, toured with Mike Shinoda of Linkin Park, opened for the Wu-Tang Clan, and composed the music for the groundbreaking Fox series Pitch. Take the Stairs, their most recent album, was released in November 2019.